Lilly Vanilly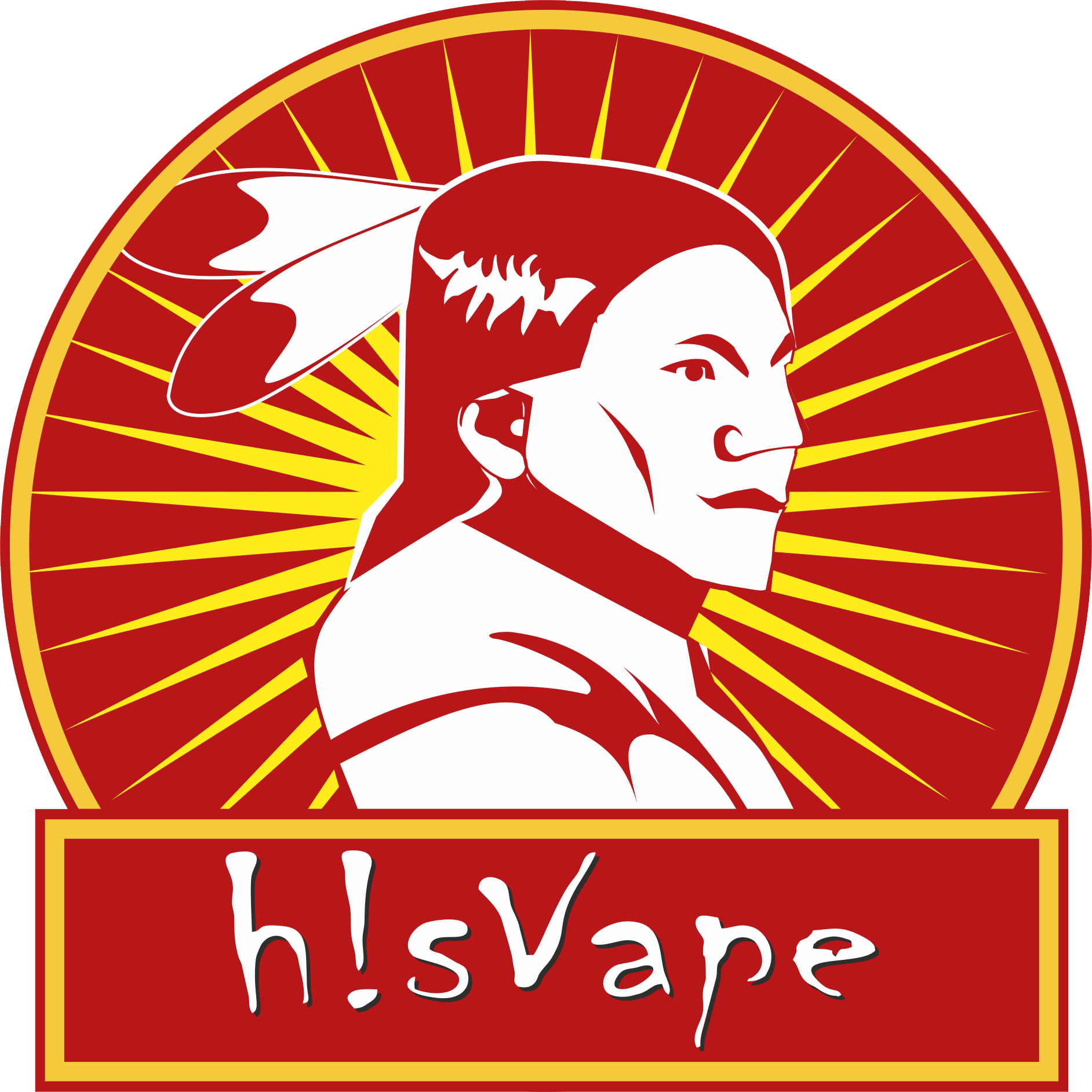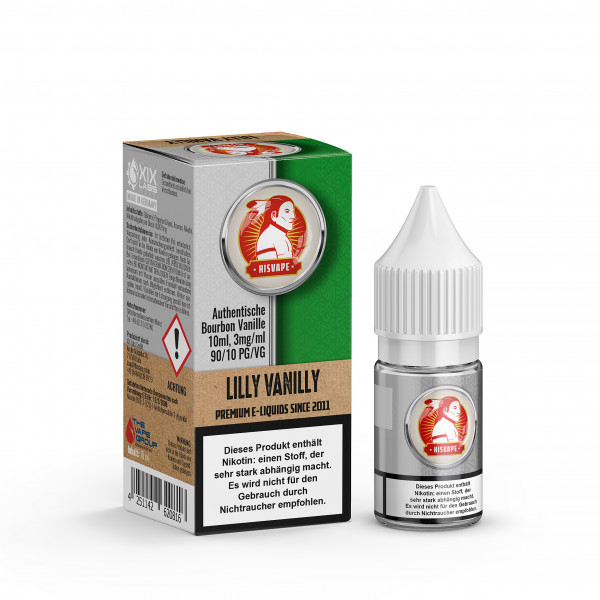 h!sVape Lilly Vanilly, fat Vanilla taste Taste : pure Bourbon Vanilla...
more
Product information "Lilly Vanilly"
h!sVape Lilly Vanilly, fat Vanilla taste

| | | |
| --- | --- | --- |
| Taste | : | pure Bourbon Vanilla |
| Flavors | : | concentrated vanilla with a light tartness |
| Quantity | : | 10ml |
| Nicotin | : | 0, 3, 6, 12 & 18 mg/ml |
| Price for 100ml | : | 59,50€ |
| contains | : | 90% PG, 10% VG, aroma & where required nicotin |
Learn more about "Lilly Vanilly"
Read, write and discuss reviews...
more
Customer reviews on "Lilly Vanilly"
Vanille-Schote
Diese Vanille schmeckt wie eine Schote vom Baum gepflückt! Richtig gutes Aroma, wenn man eher etwas echtes möchte und keinen abgerundeten Geschmack.
solides Vanillliquid
Ich bin ja ein echter Vanillloholiker. Alles was nach Vanille riecht und schmeckt ist mein Ding. Und so war ich zuerst total begeistert. geöffnet und es war sogar mir fast zu vanillig im ersten moment. total intensiv. supersüß, sehr angenehm.

Der grund warum ich nicht volle punktzahl gebe sondern nur einen guten durchschnitt: bei mir hat garnichts gereift sondern ich hatte mehr den eindruck als wär es "ausgeraucht" was gut verschlossen natürlich unfug ist. aber offenbar haben die andren aromen mehr raum eingenommen dadurch und mir das vanille zu sehr verdrängt. mir ist es einfach nicht mehr intensiv genug. dennoch mein top kanidat weil ich noch keines gefunden habe das so intensiv schmeckt und den geschmack auch behält
By:
Sophie
On:
4 May 2012
Toll
Ich muss sagen, zuerst war ich ja nicht ueberzeugt von dem Liquid. Habe ihn in meiner ersten E-Zigarette gedampft (einer eGo-Big mit Watte-Depots, die mich aber in letzter Zeit mit keinem Liquid mehr begeistern konnte). Nachdem heute mein CE4+ V2 angekommen ist und ich damit das Liquid getestet habe, hat sich meine Meinung schlagartig geaendert.
Ein sehr angenehmer Dampf, mit Geschmack nach Bourbon-Vanille-Pudding (der gute, nicht die kuenstliche billig-Version ;) )
Absolut super :)
By:
Ronald Müller
On:
17 Apr 2012
Sehr sehr gut
Wirklich spitze. Sehr angenehm, auch für Anfänger. Kein Kratzen. Und mir kommt es auch so vor, dass der Geschmack nach 1-2 Wochen noch voller und runder ist.
Bin bisher mit dem ganzen Shop sehr zufrieden und habe es auch schon an viele Bekannte weiter empfohlen. Vielleicht könnt ihr ja mal ein Art Werbe-/Bonussystem einführen. Ich denke davon würden alle profitieren. Zumal viele erst über eine persönliche Empfehlung den Schritt zur E-Zigarette wagen.
By:
Alex Fuß
On:
16 Apr 2012
Einzigartig!...Intensiv!...Suchtgefahr!
Obwohl ich meine Liquide generell bei hisvape bestellt, habe ich, da es bis vor kurzem kein Vanille-Flava hier gab, diverse andere Produkte probiert. Ich muss sagen, dass wirklich nichts auch nur ansatzweise an Lilly Vanilly heranreicht.
So etwas intensiv-aromatisches habe ich noch nie gedampft. Ab sofort mein Nummer 1 Flava! DAS IST VANILLE, SO UND NICHT ANDERS!
By:
Michael
On:
30 Mar 2012
einfach nur Klasse
... aber zuerst dachte ich, nee nicht schon wieder ein Fehlkauf.
Hatte Vanille von einem anderen Anbieter getestet und direkt in die Tonne getreten -> widerlich künstlich ...
Habe dann bei euch trotz der sehr positiven Bewertungen erst einmal 10ml bestellt, Vorsicht ist die Mutter der Porzellankiste ;-)
Nach meinen ersten Zügen dachte ich: Mist was haben die hier bewertet? Ist mein Geschmack von den Analogen noch so versaut? Da ist schon wieder ein Geschmack dabei, der total künstlich ist. Von wegen Aroma der Schote ...
Flasche zur Seite gestellt und nach 1 bis 2 Wochen noch mal probiert: Jo das war es: Liquid musste erst noch reifen es war einfach "zu frisch" für mich.

Fazit: nach der Bestellung erst etwas reifen lassen und dann in vollen Zügen genießen. Weiter so.

Gruß Michael
By:
Cathrin Hahn
On:
3 Mar 2012
Super
Sehr lecker - angenehmer Vanillegeschmack, schmeckt nicht künstlich, nicht zu süss. Ich bin begeistert :-)
By:
Josef Albrecht
On:
26 Feb 2012
Report
Hallo an das Team

Warum gibt es von dem Lilly Vanilly nicht 50 mg ich würde es gerne bestellen aber 100 ist zu viel
Ist ein geiler Geschmack und ich möchte gerne mehr davon aber 10 mg is zu wenig
und 100 zu viel würde mich freuen wenn Ihr das auch in 50 mg verschickt.

Sonst alles Top habe schon viel ausprobiert aber Euer Liquid ist das beste danke Euch
weiter so und ich hoffe man bekommt das auch bald in 50 mg

Gruß
Josef
By:
Melitta
On:
23 Feb 2012
Überzeugt!
Ich mochte Vanille nicht rauchen.
...schmeckte eckelhaft...

ABER, dampfen kann man es ziemlich genüßlich.
Dank der Probe werd ich wohl demnächst auch Vanille bestellen.

... natürlich bei HisVape :=)
By:
Jörg aus HA
On:
22 Feb 2012
Punktlandung !!!
Das Liquid ist der Hammer !
Habe schon viele Vanille Blend`s
ausprobiert aber es Kommt Nichts an
Eures ran !!!

Geschmack : 10 Sterne+
Flash : 10 Sterne (18 mg)

Bitte auch in 50 ml ;-) !!!

Gruß und Weiter So...

Jörg aus Hagen
By:
Josef Albrecht
On:
20 Feb 2012
Toll weiter so
Hallo an das HisVape Team

Endlich mal ein fruchtiger Geschmack und nicht der Industrielle Geschmack der Vanille habe schon viel ausprobiert und HisVape ist bis jetzt das beste was ich bekommen habe von der Rauchentwicklung und vom Geschmack.
Macht weiter so und ihr werdet immer mehr Kunden bekommen
Ich werde Euch auf jeden fall weiterempfehlen

Gruß
Josef
By:
Heinz
On:
18 Feb 2012
...sehr empfehlenwert !!!
Bin ja eigentlich ein Tabak-Freak. Habe aber einmal bei einem Wettbewerber ein Vanille Liquid gekauft und auf Grund des fürchterlichen Geschmackes gleich wieder in die Tonne geworfen.

Nachdem ich schon von allen Euren Tobacco-Liquids so begeistert war, konnte Lilly-Vanilly nach meiner Meinung doch auch nicht schlecht sein. Also:

bestellt, probiert, gedampft, begeistert !!!!! Das ist Vanillie !!!

Ich schrieb ja schon zu den Kundenmeinungen: Das ist "mein" Shop !

Gruß

Heinz


Lecker!
Endlich mal ein leckeres Vanille Liquide, schmeckt sehr natürlich nach Vanille (von anderen Herstellern war Vanille sehr penetrant, total künstlich ... bähh). Werde es noch intensiver dampfen, dann könnte es durchaus sein, dass ich mir unbedingt die 50ml Flasche wünschen würde ;-)
Write a review
Reviews will be published after being checked