Orange County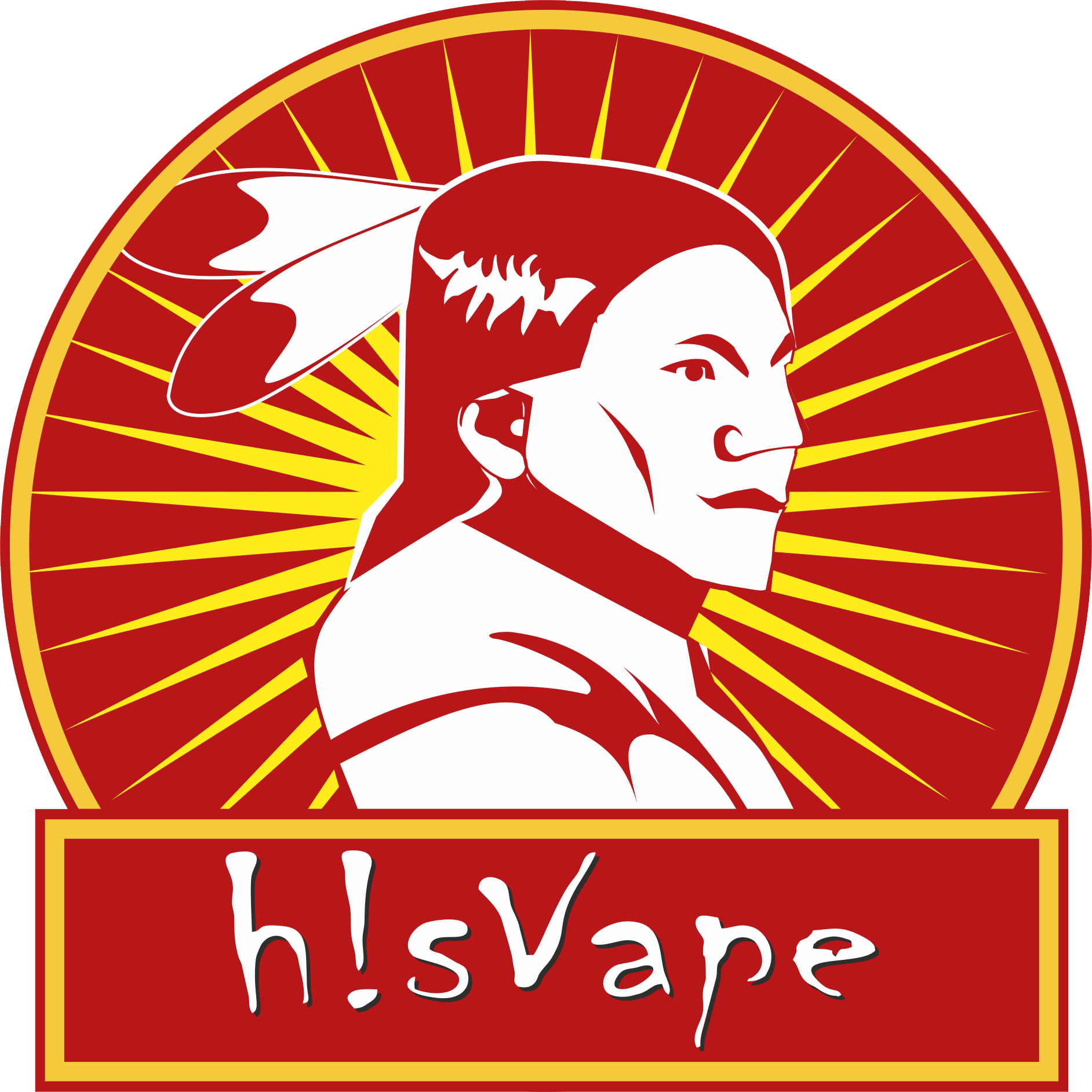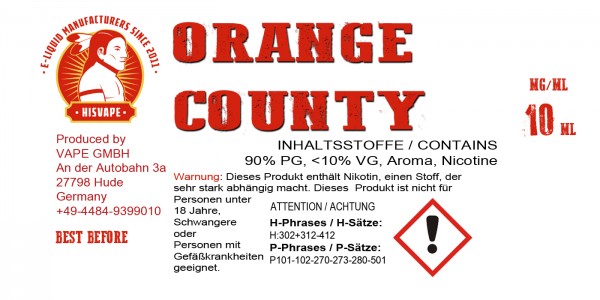 h!sVape Orange County Taste : Fruity Orange with X-factor Flavors :...
more
Product information "Orange County"
h!sVape Orange County

| | | |
| --- | --- | --- |
| Taste | : | Fruity Orange with X-factor |
| Flavors | : | Rich Florida Orange, fresh tropical fruits |
| Quantity | : | 10ml |
| Nicotin | : | 0, 3, 6, 12 & 18 mg/ml |
| Price for 100ml | : | 59,50€ |
| contains | : | 90% PG, 10% VG, aroma & where required nicotin |
Learn more about "Orange County"
Read, write and discuss reviews...
more
Customer reviews on "Orange County"
By:
Daniel
On:
8 Feb 2014
Sehr lecker
Das Liquid schmeckt sehr lecker. Einen kleinen Tick zu süß für meinen Geschmack, aber trotzdem sehr rund. Muss esbeim nächsten Mal in 6 statt 12 mg bestellen. Macht wirklich zum Dauernuckler ;-)
By:
Patrick Welker
On:
14 May 2013
Auch wenn man keine Orange mag
Normal bin ich kein Typ für Orange. Ich hätte mir das Liquid nie bestellt, wenn es nicht eine Probepackung bei meiner letzten Bestellung beigelegt worden wäre. Was soll ich sagen, meinen Geschmacksnerv hat es getroffen und ich empfinde es als eine sehr gutes Kontrastliquid zu einem meiner Favoriten (Belly Dancer).

Die Orange ist: frisch, bissig und lecker.
Wahnsinn!
Schmeckt total fruchtig frisch nach Orangen, nicht einfach nur pappsüss!!
Wie Fanta zum Dampfen! :)
Flasht auch mit 12er und ich kann absolut keinen künstlichen Geschmack feststellen.
Normalerweise stehe ich nicht so auf fruchtige Liquids, aber das hier kann ich nur weiter empfehlen! Es lässt sich auch super mit allen möglichen anderen (Tabak-)Liquids mischen!
Muss aber dazu sagen, dass es noch besser und runder schmeckt wenn man es 2 Wochen stehen/reifen lässt!
angenehm fruchtig und rund
Sehr gut gemischt. rund, solide, nichts zu meckern. nicht nur quietschig orangig, sondern durch und durch stimmig.
aber ich hab gemerkt das fruchtzeug ist nicht wirklich so meins.

aufgedampft wirds trotzdem und das ohne das "reste müssen weg" gefühl.

wer orange oder generell fruht hat, wird seine freude dran haben
By:
Matthias Lübbers
On:
29 Jun 2012
Auch hier wieder: Lekker
Habe das Liquid(18er) in 10ml und 50ml auf ego-t gedampft.
Das runde Dampfgefühl stellt sich auch hier wieder ein. Die Leute bei hisvape gehen wirklich gut mit den Aromen, PG und VG um, so das das Dampfen ein echter Genuß ist. Statt eines "grünen Daumens" sind die Mischer hier wohl mit dem "Dampfdaumen" begabt.
Wo bei anderen Anbietern das Aroma nach dem 2. oder 3. ml nur noch leicht zu schmecken ist, sind die hisvape-Liquids durchgehend gut zu schmecken.

Es gibt einen kleinen Unterschied zwischen dem Orange C in 10 und 50 ml.
Aus der grossen Bottle schmeckt es noch einen Tick runder und frisch-orangiger.
Bekannter Geschmack...
...ausprobiert, geschmeckt und überlegt, nach was das schmeckt... und IRGENTWANN draufgekommen. Das schmeckt wie Big Red Kaugummi, fruchtig, zimtig, Country eben. Passt genau. Wer Big Red mag, wird dieses Liquid lieben. Ich zum Beispiel.
By:
Michael
On:
17 Feb 2012
Wow!
Ich bin normalerweise eher der "Tabak" Dampfer und stehe nicht so auf fruchtiges. Trotzdem hatte das Orange County einen gewissen Reiz für mich und ich wollte es unbedingt antesten. Nach dem Antesten in meine Arry Tank war mir gleich klar, dass das sehr stark nach "mehr" schmeckt :-) Ich bin mir nicht so ganz sicher, ob es wirklich nach Orange schmeckt, für mich schmeckt es eher ein bisschen nach süßem Pfirsich, der aber sicher eine "orangige" Note hat.

Alles in allem ein sehr tolles Geschmackserlebnis. Da ich mehr auf würziges und kräftiges beim Dampfen stehe, ist das Orange County für mich kein Alltagsliquid, aber für zwischendurch ist es absolut perfekt. Daher volle Punktzahl :-)
By:
Andre Philipp
On:
27 Jan 2012
LECKER LECKER LECKER
LECKER LECKER LECKER.... Spitzenklasse.... hat definitiv Suchtpotenzial
By:
Britta Maschke
On:
5 Jan 2012
Sehr gute Mischung
Kann mich meinen Vorgängern nur anschließen einfach lecker :)
Habe es bei meinem Ex probiert und mir direkt gesagt wenn wieder Nachschub brauche ist es auf jedenfall mit dabei. Gesagt - getan ;)
By:
Onkel Harry
On:
19 Dec 2011
Orange für den Winterblues
Wenn es etwas süßer und kräftiger beim andampfen wäre, hätte ich 10 Punkte gegeben.

Der Geschmack, entwickelt sich erst nach einer gewissen Zeit im Tank.

Also habt etwas Geduld, am besten, ihr füllt abends auf und genießt dann morgens
den absoluten Superflash .

Der Preis ist entsprechend der Qualität gerade noch zu Tolerieren, ein viertel Liter
PG oder VG kostet in meiner Apotheke entsprechen 10 ml hier.

Darüber möchte ich allerdings nicht richten, die Nachfrage reguliert wie überall die Toleranz des Kunden ;-)

Jedenfalls werde ich diese Produkte hier, meinen Freunden und Bekannten weiterempfehlen.

By:
Wolfgang
On:
6 Dec 2011
Es muss reifen!
Beim ersten 'andampfen' war ich sehr enttäuscht. Am nächsten Tag stellte ich mir die Frage, ob ich zu viel von dem Liquid erwartet hatte!
Na, es waren ja noch andere Liquids im Haus, so landete dieses erst einmal in der Ecke. Knapp eine Woche später hatte ich es wieder in der Hand, und musste feststellen, das es ordentlich die Farbe geändert hatte. Man kennt das ja von vielen Liquids, aber so ein orange hatte ich noch nie gesehen.
Na, vielleicht ist ja nicht nur die Farbe 'gereift' sondern der Geschmack auch? Was soll ich sagen... ein bomben Orangen Aroma.
Jetzt weiß ich das die Wahre von HisVape absolut frischt ist. Man könnte sogar sagen, zu frisch ;-)
By:
Noobsy
On:
22 Nov 2011
echt lecker
Konnte mir an Anfang nicht wirklich viel darunter vorstellen, war aber sehr überrascht wie lecker das doch schmeckt.
Kann es auf jeden Fall weiterempfehlen!


Lecker Orange
Sehr fruchtig, orangig ... lecker. Guter Flash (12er). Für mich ebenfalls kein künstlicher Geschmack, ganz im Gegenteil. Klare Empfehlung von mir.
By:
Achim
On:
18 Nov 2011
Prima
Flash hervorragend, (18-er) Guter Dampf, klasse Geschmack, kein Kratzen im Hals. Bin rundum begeistert.
By:
Chris
On:
11 Nov 2011
Mir schmeckt es
Auch mir schmecken Tabakliquids am besten, aber Orange County kann ich weiterempfehlen. Ein sehr frischer und wie ich finde, keinesfalls künstlicher Geschmack. Lecker!
By:
Benjamin Lutz
On:
5 Nov 2011
Ist nicht meins...
Ist absolut nicht mein Aroma... Die Liquid-Qualität ist hervorragend,
deshalb 3 Sterne. Der Orangengeschmack ist aber (für meinen Geschmack) extrem künstlich. Die gesamte Flasche ist leider im Mülleimer gelandet...
By:
Andreas
On:
24 Oct 2011
Wird bestimmt mein Feierabendliquid
War bis jetzt nur Tabakliquiddampfer. Habe Dieses mit 12 mg Nikotin mal bestellt und ausprobiert. Schmeckt einfach nur genial. Schmeckt und riecht wirklich nach Orange. Nicht zu süss und kaum ein günstlicher Chemiegeruch/-geschmack. Dampf und Flash ist reichlich vorhanden.
Hätte nicht gedacht, dass mir ein Non-Tabacco-Liquid so gut schmeckt.
Für mich mein Feierabendliquid zum entspannen und abschalten.

Insgesamt sind die Liquids von Hisvape alle sehr gut. Kein Kratzen im Rachen oder Kopfschmerzen
Macht weiter so!!!
Write a review
Reviews will be published after being checked