3X5 Tobacco Blend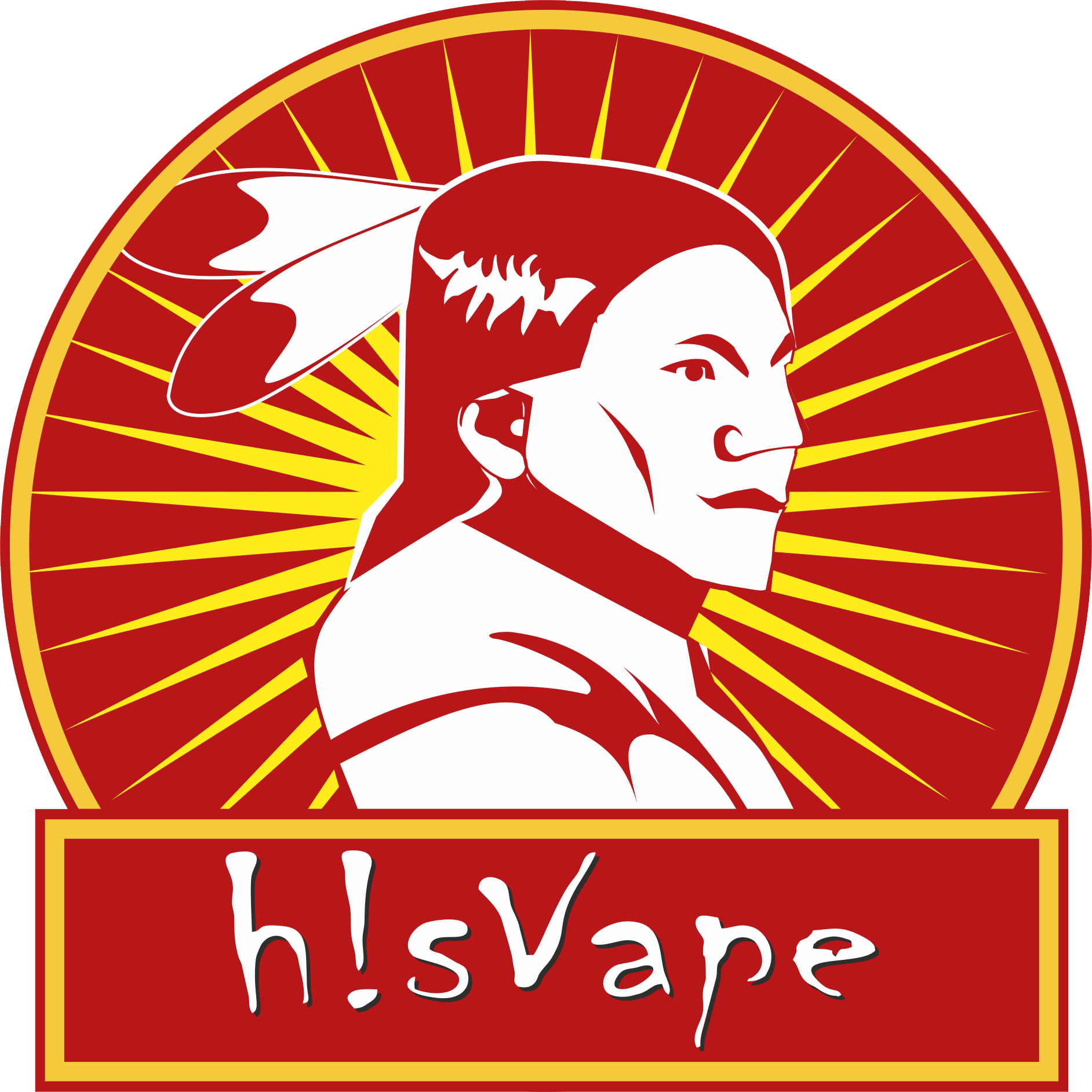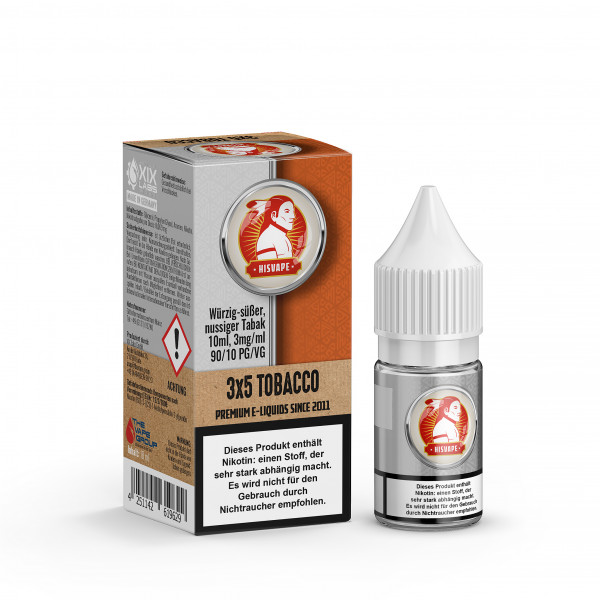 h!sVape 3x5 Blend smooth, a tribute to the Interstate American Blend Style Tobacco...
more
Product information "3X5 Tobacco Blend"
h!sVape 3x5 Blend smooth, a tribute to the Interstate

American Blend Style Tobacco

| | | |
| --- | --- | --- |
| Taste | : | Full flavoured nutty Tobacco |
| Flavours | : | Aromatic tobacco, nuts, honey, hay |
| Quantity | : | 10ml |
| Nicotin | : | 0, 3, 6, 12 & 18 mg/ml |
| Price for 100ml | : | 59,50€ |
| contains | : | 90% PG, 10% VG86, Aqua pH5, aroma & where required nicotin |
Learn more about "3X5 Tobacco Blend"
Read, write and discuss reviews...
more
Customer reviews on "3X5 Tobacco Blend"
By:
Sascha M.
On:
22 Aug 2016
Ein sehr gutes Liquid
Hallo, dieses Liquid schmeckt wirklich gut und es hat mich von den Pyros weggebracht so das ich inzwischen seid über 4 Wochen Rauchfrei bin und nur noch dampfe! Tolles Zeug welches ich nur weiter empfehlen kann!!
By:
FType
On:
13 Sep 2014
Simply The Best!!!
Meine unangefochtene Nr.1!

3x5 ist wirklich ein unglaublich leckeres All-Day Liquid, welches man wirklich zu absolut jeder Gelegenheit dampfen kann. Schmeckt zum Feierabend Bierchen genauso wie zum Kaffee oder einfach mal so zwischendurch. Ich habe wirklich viele Hersteller ausprobiert wo Tabak Liquids/Blends wirklich zum abgewöhnen sind, HisVape macht einfach die Premium Liquids!

Meine Top5 EJuices:

1. 3x5
2. BellyDancer
3. Mild Menthol
4. Churchill
5. Erdbeer-Menthol (eines anderen Liquid Herstellers)

@Susanne & Paul: vielleicht könntet Ihr ja mal in die Überlegungen bei neu geplanten Kreationen ein Erdbeer-Menthol Blend mit aufzunehmen. Ich bin sicher, dass das was dabei rauskommt auch noch meine No.5 von der Liste ersetzen wird! Great Job!!!

3x5 ist einfach der Hammer!
By:
Mikael
On:
24 Apr 2014
sehr gut
Hab soeben mein.paket bekommen und das 3x5 eingefüllt und muss sagen...hammer.absolut.
Der anfang ist ungewohnt da es ein wenig nussig ist aber sehr angenehm zum rauchen.
Hab den M Type ausprobiert und der ist devenitiv nicht annähernd so gut wie der 3x5.
Super mit einem schuss lilly vanilly ebenfalls von hisvape.

Mfg Mikael
By:
Daniel
On:
8 Feb 2014
Täglich dabei ! 1A
Ich bin erst seit ein paar Wochen weg von den Pyros und habe neben den fruchtigen und süßen Liquids nach einem gut bewerteten Tabac-Liquid gesucht. Diese Topbewertungen hat 3X5 Tabacco Blend zuerecht!!!

Schmeckt nicht künstlich, leicht süßlich, angenehm nach Tabac und wie ich finde minimal nach Apfel.
By:
Christian Froberg
On:
7 Jan 2013
Sprachlos!
Auch hier wieder: Ich kann fast nicht mehr , soviel Lob muß ich hier abgeben!

Liquids vom Feinsten!
Mir hat noch nie ein Tabakliquid geschmeckt und ich habe es wieder probiert.
Zum ersten mal habe ich eines gefunden und jetzt suche ich nicht mehr weiter.

3x5 Absolut mein Geschmack als Tabakliquid. Ihr habt es auf den Punkt genau getroffen.
Bitte macht weiter so.Ihr seid jede Empfehlung Wert.
Ich habe jetzt 5 Liquids bei Euch probiert und ausnahmslos alle schmecken mir aber sowas von.Das hatte ich noch nirgendwo.

Danke an Euch!



By:
Monika H.
On:
12 Dec 2012
Die Suche hat endlich ein Ende
Ich bin jetzt seit geraumer Zeit auf der Suche nach einem "ganztagstauglichen" Liquid, dessen man nicht schon nach ein paar Zuegen ueberdruessig ist, und es hat mittlerweile sich so einiges bei mir zuhause angesammelt, was aber nie wirklich meinen Geschmack getroffen hat (wobei man auch sagen muss, dass hier in Italien die Auswahl nicht wirklich beeindruckend ist und die Dampfkultur noch in den KInderschuhen steckt ). Lange Rede kurzer Sinn: Eure Liquids sind das Beste, was mir bisher untergekommen ist und auch wenn mal eins dabei ist, was nicht so den persoenlichen Geschmack trifft, sind alle geschmacklich sehr ausgewogen und haben nichts Kuenstliches. Werde hier in Bella Italia die Werbetrommel fuer euch ruehren, denn auch der Kundenservice sucht seinesgleichen!
By:
Gisela Dasen
On:
9 Nov 2012
Dauerbrenner!
Ich dampfe seit mittlerweile einem Jahr und bin zum Glück schnell auf h!sVape gestossen ;-)
3x5 war und ist meine erste Wahl von Beginn an, auch wenn ich ab und zu was Fruchtiges dampfe.
Die Ausgewogenheit von süss und nussig ist sensationell, ich möchte dieses Liquid nicht mehr missen!

By:
Michael Schmidt
On:
13 Sep 2012
Sehr lecker
Sehr gutes Tabak Liquid. Flash hervorragend, dabei sehr sanft und kratzt überhaupt nicht. Leckerer nussiger Geschmack. Kräftig und leicht süß. Zum Dauerdampfen bestens geeignet. Eins der besten die ich bisher probiert habe. Bin schon auf die nächsten gespannt.
Besser geht es nicht
Auch für mich hat sich das 3x5 zum absoluten Liebling gemausert. Die Komplexität dieses Liquids ist hervorragend, die diversen Aromen perfekt abgestimmt. Muss mich wirklich beherrschen, das ich damit nicht zum Dauerdampfer mutiere. Dazu noch der Grossartige Service von hisvape, da bleiben keine Wünsche offen.
wow!
Das Dampfen steht und fällt mit Liquids, die wirklich schmecken. Man hat mir hisvape empfohlen - und hier hat sich mir eine völlig neue Qualität präsentiert. Habe bisher regular und mild blend ausprobiert, aber mein Favorit ist das 3x5. Dabei dampfe ich es "nur" in Stärke 6 und mische es sogar noch mit dem Nullerliquid runter auf denke ich ca.3 - und es schmeckt und flasht trotzdem.
Ein absolut angenehmes Geschmackserlebnis.
Hier bleibe ich Kunde!
By:
Bianca
On:
14 Jun 2012
Sehr angenehm, bestes Tabak Liquid
Am Anfang dachte ich echt kurz: Bäääh! Wie eklig, schmeckt gar nicht wie Tabak...Eher nach ner menge Stroh mit Zitronigem Abgang....Nach ner Woche nochmal gedampft...LECKER LECKER LECKER ! ! ! Würzig , Mild , süßlich und ein klein bisschen fruchtig im Abgang beschreibt es wohl ganz gut... Das beste Tabak Liquid was ich je hatte...Auf jeden Fall immer im Haus ab jetzt...Und übrigens finde ich es auch gar nicht schlimm erst ne woche zu warten bis ich losdampfe, solange da so ein geschmack bei rauskommt nehme ich das absolut gerne in kauf!!! Weiter so.... Vielleicht könntet Ihr ja mal was mit Banane oder Karamell ausprobieren? So Schoko-Banane oder Karamellpudding ? :) Ich stehe auf süße Liquids wie man merkt ;) als nächstes probiere ich wohl Lilly Vanilli...an Waldmeister traue ich mich wohl noch nicht ran, LOL
By:
Cathrin Hahn
On:
20 Mar 2012
eines meiner Lieblinge
Ich dampfe 3x5 sehr gerne, es schmeckt sehr gut, würzig mit einer süßen Honignote. Ich mische gerne etwas Lilly Vanilly (ebenfalls von h!sVape) dazu, was auch super zusammen schmeckt.

Ich werde 3x5 immer wieder bestellen ;-)
By:
Michael
On:
5 Feb 2012
Spitzen Qualität, wie immer!
Ich habe mir heute den ganzen Tag Zeit genommen, neben meinem mittlerweile heißgeliebten "Regular" auch mal das 3x5 ausgiebig zu testen und ich bin (wieder einmal) schlichtweg begeistert. Es hat eine etwas herbere Note die mich eigentlich bei jedem Zug immer mal wieder ein bisschen an Kakao erinnert. Es dampft sich sehr schön und passt vorallem nach einer ausgiebigen Mahlzeit am Besten. Nach dem Regular bisher mein Lieblingsliquid von h!sVape.
By:
Alfred Zeitler
On:
14 Jan 2012
Perfekt
Mein Liebling.
Ich dampfe es zu 90%.
Würze und leichte süsse in perfekter Abstimmung.

Sehr guter Flash. Das 9er flasht besser wie manch ein 12er von anderen Herstellern.
By:
Achim Klärchen
On:
8 Jan 2012
Stammladen
Habe hier mit der ego-T Typ-A begonnen.Zunächst habe ich alle Tabac-Variationen probiert, auch bei anderen Anbietern.Nun, ich kann nur sagen: Back to the Roots.
Ich bin sehr zufrieden mit den Orginal-Joytech-Produkten, den netten Mail-Kontakt und das geduldige Beantworten der Anfängerfragen, das Erlebniss der Non-Tabac -Liquids und meiner Stammmarke 3*5 sowie Anregungen.
Bin jetzt ein Monat Pyrosfrei und erfreue mich mit Belustigung der langsamen Verdammung dieser Möglichkeit wieder tiefer Durchatmen und Riechen zu können.
Für mich ist das Dampfen ein Genusss und ein Stück Lebensqualität und ich freu mich ein Laden meines Vertrauens gefunden zu haben..
Gespannt erwarte ich noch neue so gute Liquids und ev. noch so ein paar Edeldampfgeräte.


By:
heike
On:
13 Dec 2011
Alles liquid schmecken super
Ich habe ja mittlerweile einige Liquid (oder wahre es nicht alle?) von hiVape probiert. Die schmecken einfach alle gut, ich habe auch schon bei einige anderen Anbieter Eingekauft, aber ich komme immer wieder auf deine Liquids zurück.
Irgendwo habe ich hier auf der Seite gelesen das, das dein Ziel war Liquid herzustellen was wirklich schmeckt, und das ist dir gelungen.

gruß heike
By:
heike
On:
11 Dec 2011
Alles liquid schmecken super
Ich habe ja mittlerweile einige Liquid (oder wahre es nicht alle?) von hiVape probiert. Die schmecken einfach alle gut, ich habe auch schon bei einige anderen Anbieter Eingekauft, aber ich komme immer wieder auf deine Liquids zurück.
Irgendwo habe ich hier auf der Seite gelesen das, das dein Ziel war Liquid herzustellen was wirklich schmeckt, und das ist dir gelungen.

gruß heike
By:
Marcus
On:
11 Dec 2011
YamYam
Also das ist ja mal was nach meinem Geschmack! Schmeckt einfach zu allem. Zum Kaffee, nachm Essen und sogar zum Bier. WOW!

Nach den ersten 10ml. Gleich ne 50er Pulle bestellt!

Super gemischt!


By:
Radoslaw
On:
14 Nov 2011
Lecker, lecker ...
Ich bin Anfänger im dampfen und habe noch nicht viel probiert.
Aber dieses Liquid wird auf jeden Fall zu meinen lieblings Liquids zählen.
Super lecker !
Geht in Richtung Popcorn / Zuckerwatte.
Sehr angenehm zu dampfen.
TOP !
By:
Peter Bluth
On:
5 Nov 2011
Sehr leckeres Liquid
Ich habe nun schon einiges probiert und bin bei 2Liquiden haengengeblieben.
Churchill ist sehr gut, leicht pfeffrig, 3x5 ist der absolute Hammer.
Geschmacklich wwuerde ich sagen: Popcorn
Leicht suess und sehr angenehm fuer den dauergebrauch.
Ich werde nur noch Churchill und 3x5 dampfen.
By:
Maximilian Schmidt
On:
23 Oct 2011
Mein Lieblingsliquid
Das 3x5 ist für mich persönlich das leckerste Liquid, das ich bisher gedampft habe. Der Geschmack hat eine sehr angenehme Mischung aus kräftigen und leicht süßlichen Noten, ohne dabei aufdringlich zu schmecken. Für mich ein tolles Liquid, das ich jeden Tag dampfe, genau mein Geschmack!
Write a review
Reviews will be published after being checked