Churchill Blend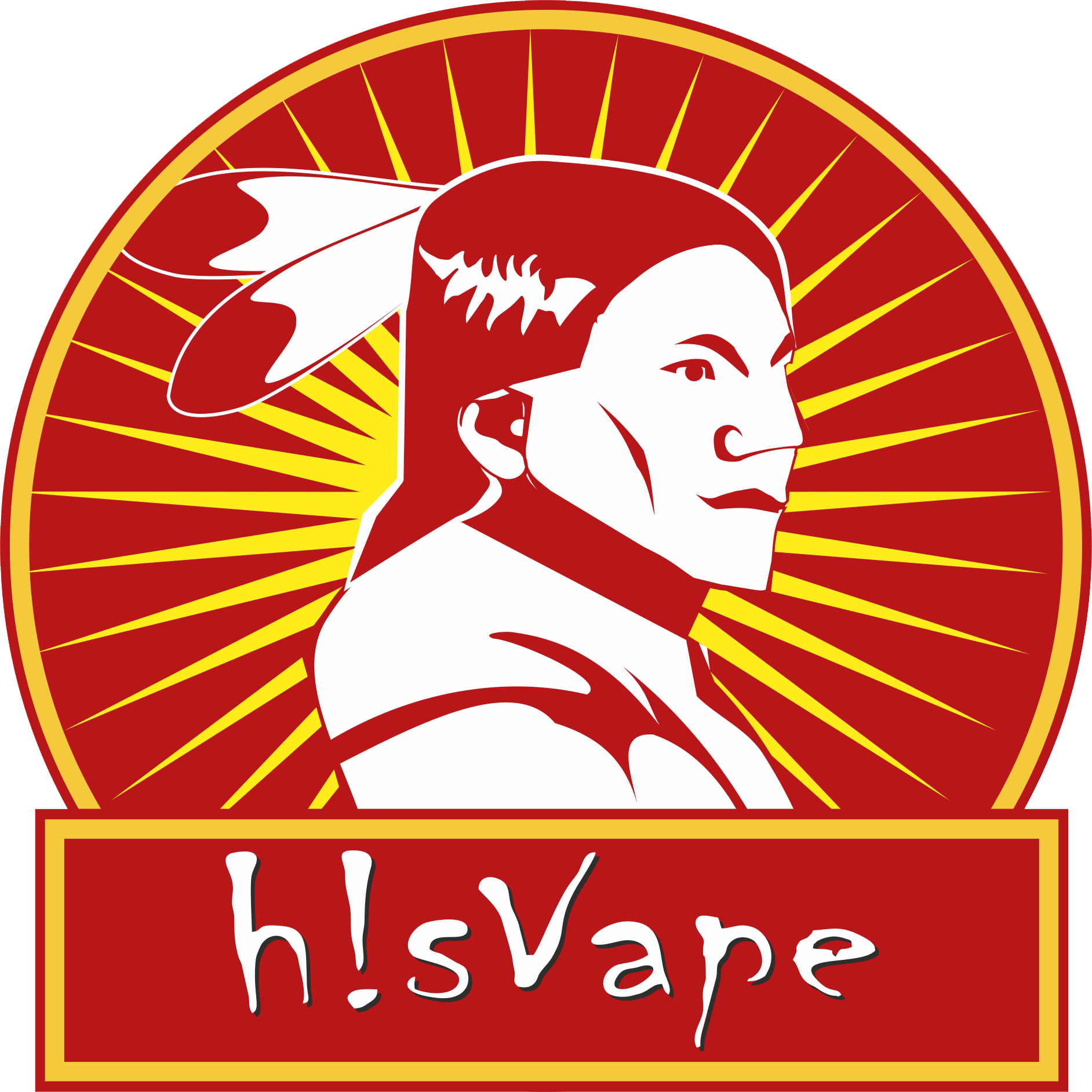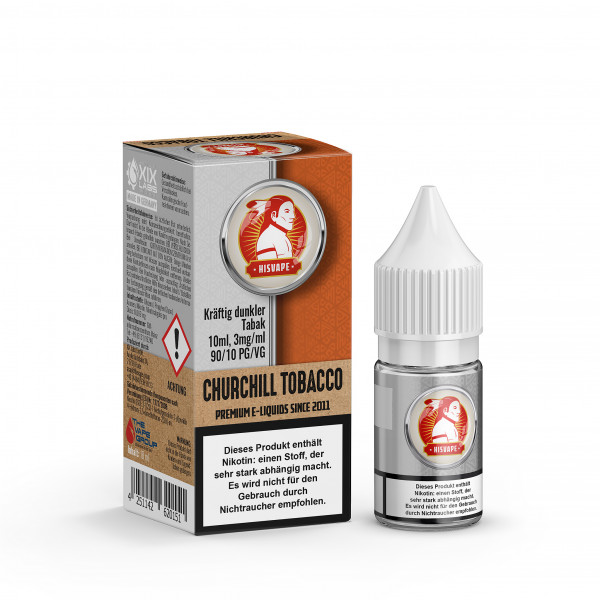 h!sVape Churchill British American Tobacco Style Taste : Distinct,...
more
Product information "Churchill Blend"
h!sVape Churchill

British American Tobacco Style

| | | |
| --- | --- | --- |
| Taste | : | Distinct, full-bodied, aromatic Tobacco |
| Flavours | : | slightly woody, fruit, pepper and honey |
| Quantity | : | 10ml |
| Nicotin | : | 0, 3, 6, 12 & 18 mg/ml |
| Price for 100ml | : | 59,50€ |
| contains | : | 90% PG, 10% VG, aroma & where required nicotin |
Learn more about "Churchill Blend"
Read, write and discuss reviews...
more
Customer reviews on "Churchill Blend"
hisVape forever!
Ich bin froh Euch gefunden zu haben.

Mit Churchill und einigen anderen von Euch (3x5, Orange County, BBoy, Belly Dancer) habe ich meine Stammliquids gefunden und werde nun für immer bei Euch Kunde bleiben.
Ich habe sehr viele Hersteller probiert, angefangen bei Flavour Art, die einfach nur teilweise flach und lasch schmeckten, bis hin zu Halo. Die Halos waren zuletzt meine Wahl wenns um Tabakliquids ging.

Bis ich das CHURCHILL und das 3x5 von Euch probiert habe!

Jetzt will ich die Halos nicht mehr dampfen. :)

Das CHURCHILL ist der Wahnsinn. Geschmäcker sind ja verschieden, aber ich würde es nicht unbedingt mit Pfeffer in Verbindung bringen. Für mich schmeckts eher nach Tabak mit Malzbonbon, verbunden mit einer subtil fruchtigen Note im Hintergrund. Sehr komplex und einfach nur genial.

Dampf und Flash sind auch super! Da passt einfach alles. Bin sogar jetzt von 18mg auf 12mg Nic runter und vermisse NICHTS.

UND: es hat bisher sogar jedem geschmeckt, der die Halos von mir nicht mochte. :)

Bitte weiter so, hisVape, ich liebe Euch.
Besser geht's nicht!
Ich bin schon seit Längerem auf der Suche nach dem perfekten Tabakliquid, mit Churchill habe ich es gefunden!! Ehrlich, hier ist es nicht das Nikotin, das süchtig macht, sondern der Geschmack! Kräftig, herb, mit pfeffriger Note, ohne dieses ganze süße Zeug. Perfekt! Wenn's nicht zum dampfen wär, würde ich's glatt trinken :-)
By:
Michael
On:
10 Feb 2012
Sehr speziell...
Das Churchill hat mich wirklich sehr überrascht. Es hat eine wirklich dominante Pfeffernote und erinnert mich sehr an richtigen Tabak oder besser gesagt an Zigarillos. Ich habe früher sehr gerne Moods an längeren Abenden zum Bier dazu geraucht, daher halte ich Churchill für solche Situation als sehr hervorragend geeignet. Es ist ein sehr spezialles Liquid welches ich nicht unbedingt den ganzen Tag dampfen möchte, aber es ersetzt mir meine heiß geliebten "Kräftigeren" zu gemütlichen Abenden auf jeden Fall. Daher gibts für mich die voll Punktezahl, denn dieses Liquid ist genau das was mir bisher gefehlt hat und rundet meine Sammlung voll ab.

Übrigens DANKE und ein GROSSES LOB an h!sVape! Ihr legt immer ein gratis Muster zu meinen Liquid Bestellungen dazu, und zwar immer die Sorte, die ich noch nicht probiert habe. Wo gibts das denn sonst noch? Nirgends! Daher schätze ich euch so!
By:
Heinz Schulz
On:
9 Feb 2012
...man kann einfach nicht aufhören !!!
Habe jetzt die zweite Lieferung von Euch bekommen. Bin im Moment beim Churchill.

Bin immer wieder aufs Neue begeistert.

So, schnell fertig schreiben... muss weiterdampfen...

Gruß an Euch und Danke ! Macht so weiter !!!
By:
Henry Richter
On:
5 Feb 2012
Genuss pur ! *****
Fünf Sterne für dieses hervorragende Liquid.
Es entspricht genau der Beschreibung und ist mit 8 mg N
für genau das RICHTIGE !
By:
Karsten Dallmann
On:
10 Jan 2012
Sowas von lecker
Erstmal vielen lieben Dank für die schnelle Lieferung.
Habe das Starterset mit 4 Liquids bestellt und eben erstmal Churchill in den Tank gefüllt.
Und was soll ich sagen: Sowas von lecker!!!!

Bin erst seit einer Woche Dampfer, aber dagegen schmeckten bisher alle anderen Liquids wie alte Socken.

Bin schon auf die anderen 3 Sorten gespannt.
Allerdings werde ich heute abend wahrscheinlich Herzrasen bekommen, weil ich die halbe Flasche Churchill weggedampft habe.
By:
Matthias Koch
On:
14 Dec 2011
Genial
Nach meiner ersten Probebestellung zeigte mein Geschmackssinn eindeutig für das Liquid "Churchill" eine Nochmalkauf-Reaktion.
Geschmacklich genial, eine Pyro brauche ich nicht mehr, die schmecken eigentlich ziemlich mies. Für mich der eindeutige Favorit: CHURCHILL
Dauerdampf
Ich hatte das Churchill und das 3x5 zusammen bestellt. Das 3x5 schmeckte mir sofort besser. Als ich dann nach zwei Wochen nochmal das Churchill probiert hab hats mich aus den Schuhen gehauen. Einfach nur lecker.
Also liebe Leute. Lasst die Liquids von HisVape reifen. Je länger, je besser.

Meine Bestenliste

1. Churchill
2. 3x5
3. Mild
By:
Christoph
On:
17 Nov 2011
Absolut Perfekt
Ich bin absolut begeistert. Als Moods Raucher habe ich genau so eine Mischung gesucht. Ein perfekter Mix zwischen dem Geschmack von Pfeife und Halfzware mit dem ich sofort die Zigarillos in der Schublade lassen konnte.
By:
Silvie
On:
26 Oct 2011
sehr intensiv und lecker
Mein Mann und ich sind begeistert. Vielen Dank für die Empfehlung. Sehr gelungen, unvergleichlich ! Bis bald ;)
By:
Robert
On:
21 Oct 2011
StarkGenuss
"Starker" Genuss

Ein großes LOB an h!sVape Mixer ;) !

Ich bin einfach begeistert und kann nicht aufhören zu dampfen ;)
Als Kettenraucher kann ich nur empfehlen - eine saftige Mischung mit kräftiger Pfeffernote,
die fast in Chili geht. Fantastisch! Hab bei der Bestellung etwas Angst gehabt: "wie wird das holzig-süß-pfefferiges" zu dampfen?! Jetzt kann ich nur empfehlen – unvergesslicher Geschmack mit sehr interessantem Aroma und überraschendem Nachklang!

Write a review
Reviews will be published after being checked