Regular Blend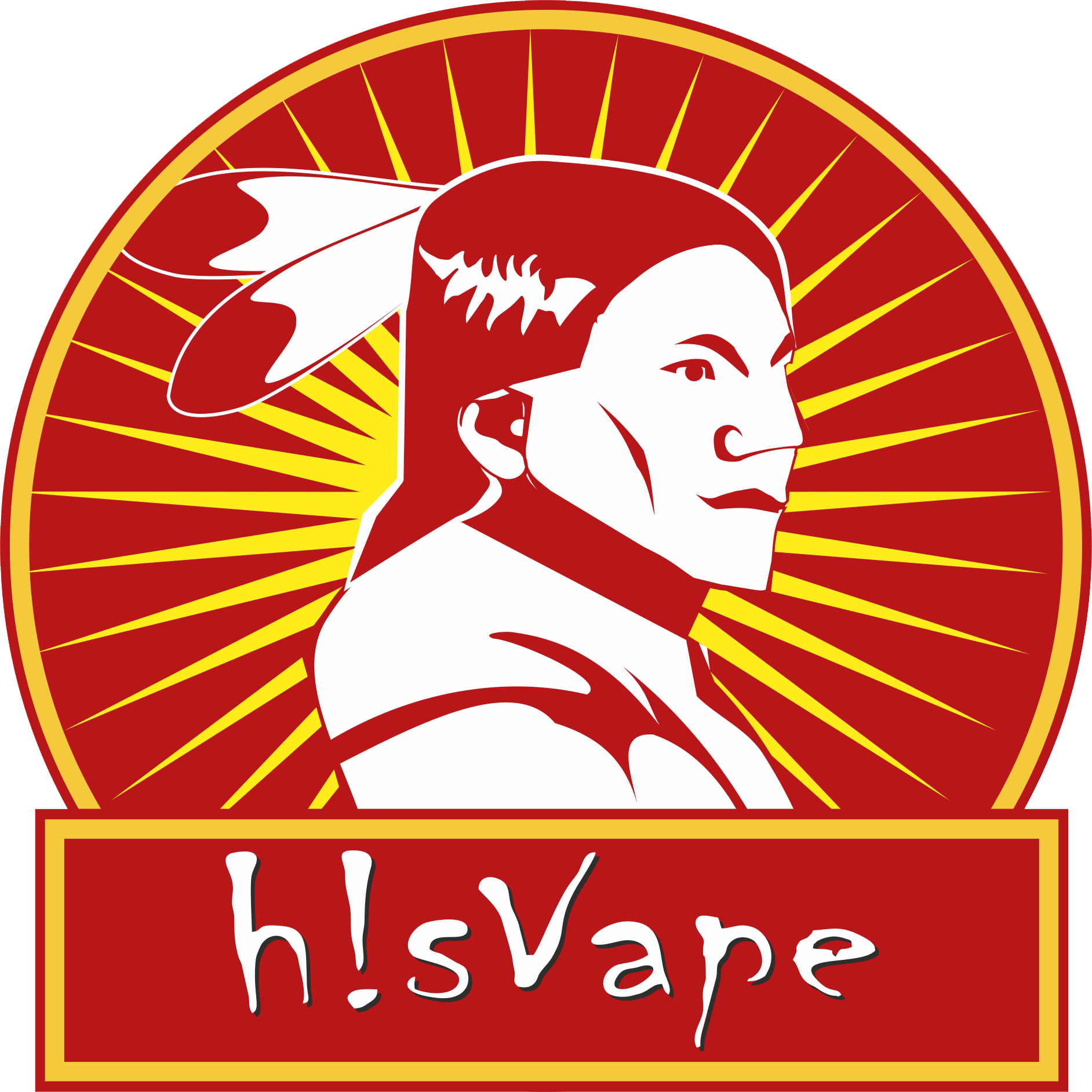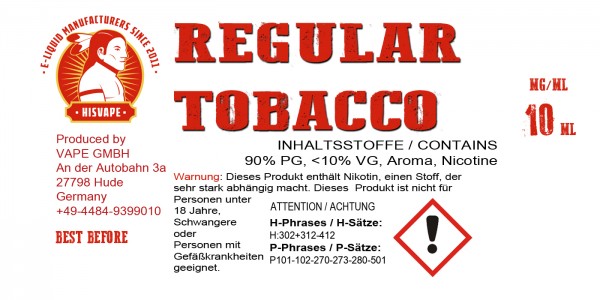 h!sVape Regular American Blend, Indian Style Taste : American Blend with...
more
Product information "Regular Blend"
h!sVape Regular
American Blend, Indian Style

| | | |
| --- | --- | --- |
| Taste | : | American Blend with oriental touch |
| Flavours | : | Virginia Tobacco, hay, flowery, sweetish |
| Quantity | : | 10ml |
| Nicotin | : | 0, 3, 6, 12 & 18 mg/ml |
| Price for 100ml | : | 59,50€ |
| contains | : | 90% PG, 10% VG, aroma & where required nicotin |
Learn more about "Regular Blend"
Read, write and discuss reviews...
more
Customer reviews on "Regular Blend"
Sehr empfehlenswert
Dankeschön für das gute Liquid .
Das ist genau meine Richtung.
Meine Favoriten von HIS sind :
3✖️5
Regular
Ry 4 Tobacco
Als leidenschaftlicher Selbstwickler und Mischer, habe ich einfach mal wieder
Lust auf was fertiges und bin hier bei hisvape angekommen .
Bis auf ein Fehlgriff der ja bei uns Dampfer normal ist . Und immer wieder mal vorkommt . Oder es sogar nach paar Tagen doch schmeckt. ; )
Bin ich sehr begeistert von der Misch-Kunst hier .
1A Qualität
Leckeres Premium liquid .
Einfach mal probieren, liebe Dampfer.
PS : es lohnt sich.

By:
Franky
On:
14 Nov 2012
h!sVape are the best
Sensationell …
Das beste Tabak - Liquid was ich bis heute probieren durfte.
9 Punkte nur darum, falls Paul noch ein neues kreiert. Damit ich noch Raum nach oben habe.

Bin seit Mai 2012 Dampfer und habe schon viele Händler & deren Liquid's ausprobiert. Letztendlich bin ich wieder bei h!sVape gelandet.
- bester Email - Support
- bester Geschmack
- beste verträgliche Basis (90% PG < 10% VG)
Die Lieferzeiten variieren leider ein Bisschen, aber man kann ja nicht alles haben!;-)
By:
Hans Werner Schönhof
On:
7 Feb 2012
Ganz OK
Mir persönlich schmeckt das Liquid nicht so gut, etwas zu viel Heu! Tendiere eher zum Mild Blend, aber das musss jeder selbst entscheiden. Hisvape ist aber immer meine 1. Wahl!
einfach nur lecker
Ich habe mir das Liquid in der letzten Woche bestellt und heute schon wieder nachbestellt. Es schmeckt einfach nur super lecker.
Ich hatte in der letzten Zeit eine leichte Kriese beim Dampfen da ich meinen Geschmack nicht finden konnte.Ich habe alles mögliche ausprobiert und hatte schon wieder mit normalen Zigaretten angefangen.
Jetzt , dank meiner letzten Bestellung bin ich mir sicher , dass ich Dampfer bleibe.Danke für dieses Liquid.

By:
Michael
On:
3 Feb 2012
Genial!
Ich habe wirklich viele, viele Liquids aus aller Welt probiert, aber keines hat mich so umgehauen wie das Regular. Es dampft sich sowohl im Edison Tank auf dem ProVari, in der eGo-C oder im Reo Grand mit Cisco Verdampfer einfach fabelhaft! Der Flash ist sehr toll, die Dampfbildung der Wahnsinn und der Geschmack erste Sahne. Eine Mischung aus dezenter Süße gepaart mit einer leichten Heunote und einem leicht würzigen Unterton macht dieses Liquid zu einem Geschmack, den ich nie mehr missen möchte. Egal ob tagsüber, ob mal zwischendurch, zum Kaffee, nach dem Essen oder einfach nur zu einem gemütlichen Bier - das Regular passt einfach immer und das macht es so einzigartig. Daumen hoch!
By:
Andre Philipp
On:
27 Jan 2012
Genau Soooo
Genau so hat mein Drehtabak geschmeckt....
mehr brauch ich wohl nicht zu sagen
(werde es auf jedenfall wieder bestellen)
By:
Britta Maschke
On:
5 Jan 2012
Einfach genial ;)
Bin eigentlich eher eine Nontobacco-Dampferin hatte mir im Oktober aber mit meinem Starterset auch dieses Liquid bestellt. Und da es nun zur Neige ging schnell nachbestellt.
Es schmeckt sehr lecker und verführt sehr zum Dauerdampfen wie oben schon erwähnt wurde.
Also werde es auf jedenfall wieder bestellen.
Aber nun erstmal wieder den Vorrat vernichten - hihihi ;)
By:
Dirk schönrock
On:
8 Dec 2011
Sehr leckere Mischung
Ich bin angenem überrascht wie lecker das hisvape Team ihre liquids mischt und die Aromen auf den Punkt trifft viele andere Hersteller können sich von euch eine Scheibe abschneiden!!! Das regular ist sehr angenehm zu dampfen und es besteht große dauernukkelgefahr es ist sehr zu empfehlen. :) und jetzt werde ich mich noch weiter durch euer Sortiment dampfen und weiter hisvape Kunde bleiben!!!!
Sehr gute Mischung
Mein absolutes Lieblingsliquid von den Tabacco's. Bin Neudampfer, habe noch keine Liquids anderer Anbieter probiert und sehe auch keinen Grund dazu. Hier weiß ich wenigstens wo die Ware herkommt.
By:
Benjamin Lutz
On:
5 Nov 2011
Lecker und guter Flash
Ist für meinen Geschmack ein leckeres Liquid, welches auch recht gut flasht.
Habe die 18mg-Version bestellt. Passt einwandfrei.
Das Liquid hat eine leichte Süße, welche aber nicht all zu dominant ist.
Kann ich bedenkenlos weiterempfehlen! :-)
By:
Thomas Paulmann
On:
3 Nov 2011
coole Mischung
Ich bin Neuling beim vapen und habe einen Mix bestellt, Strong, Regular und Mild. Ich persönlich finde das Regular am besten, es hat eine gut schmeckende Mischung und einen dementsprechenden Geschmack.
Macht weiter so
By:
Thomas Spiekermeier
On:
27 Oct 2011
Wohlschmekendes Liquid. Geeignet fürs Dauerdampfen.
Hallo, ich finde das Liquid sehr wohlschmeckend und vorallen sehr gut geeignet zum Dauerdampfen, was man nur bei sehr wenigen Liquids sagen kann.
Eventuell würde etwas weniger süße dem Gesamtgeschmack fürs Dauernuckeln noch etwas besser tun. Ich bin zumindest sehr angetan von dem Liquid, und kann es auch bedenkenlos weiter empfehlen.

Gruß Thomas S.


By:
Chris
On:
26 Oct 2011
Interessante Mischung
Eine sehr interessant Mischung in der ich auch Lavendel schmecke. Endlich Liquids die sich von der weit verbreiteten "Stangenware" abheben!
Write a review
Reviews will be published after being checked