Mild Menthol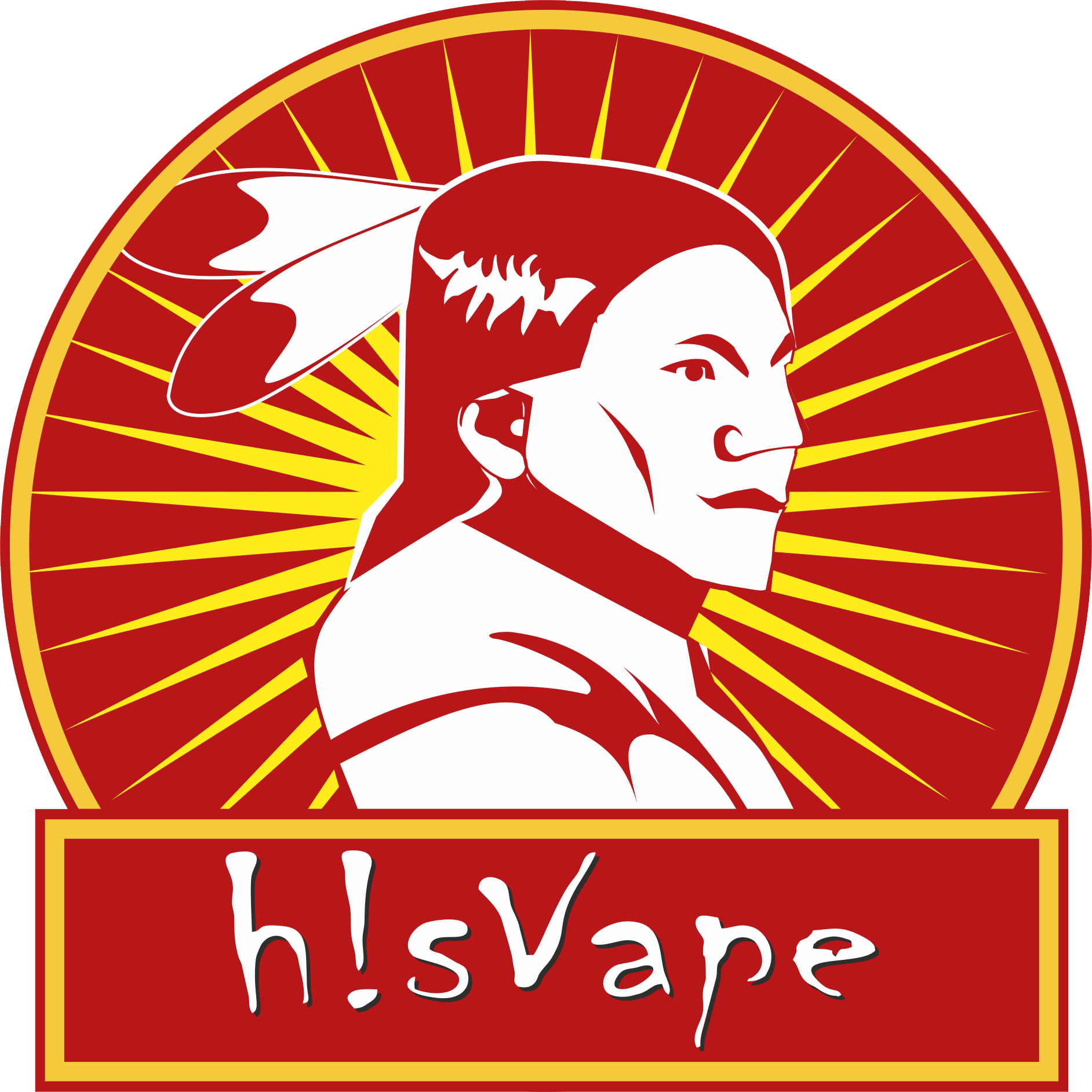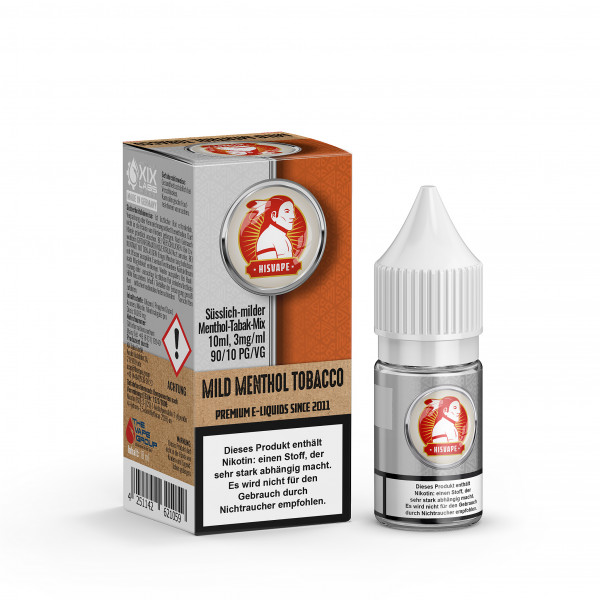 h!sVape Mild Menthol American Blend, Kentucky style Menthol Taste : Tasty,...
more
Product information "Mild Menthol"
h!sVape Mild Menthol

American Blend, Kentucky style Menthol

| | | |
| --- | --- | --- |
| Taste | : | Tasty, mellow sweetish Tobacco with menthol |
| Flavours | : | Virginia tobacco, cane sugar, hay, cocoa, menthol |
| Qantity | : | 10ml |
| Nicotin | : | 0, 3, 6, 12 & 18 mg/ml |
| Price for 100ml | : | 59,90€ |
| contains | : | 90% PG, 10% VG, Aromen & where required nicotin |
Learn more about "Mild Menthol"
Read, write and discuss reviews...
more
Customer reviews on "Mild Menthol"
By:
Juergen
On:
11 Jan 2013
Besser als Menthol-Zigaretten
Während meiner Raucher-Karriere immer wieder mal Menthol-Zigaretten probiert und jetzt als Dampfer nach einem niedrig-dosierten Nikotin-Ersatz gesucht, der zur Nikotin-Entwöhnung anders als das Gewohnte schmeckt und nicht so im Hals kratzt.
Im Vergleich zur Mild-Mischung ist mir diese Mild-Menthol noch etwas lieber und harmoniert auch besser mit den fruchtigen Liquids. Als Nikotin-angereichertes Liquid ist mir Mild Menthol damit derzeit am liebsten. 9 von 10 Bewertungspunkten in der hisVape Ego-Clear.
By:
Christian Froberg
On:
8 Jan 2013
WOW!
Ihr habt mich schon wieder getroffen.Danke für diese mitgelieferte 2ml Probe.
Ich bin wiedermal begeistert.
Selbst versucht aber nicht annähernd hinbekommen.
Tabak und Menthol.
Einfach gesagt: Hammer Geschmack!!!

Dampfe auf ProVari und Genesis.Gut das ich nur noch 6mg dampfe sonst würde ich flüchten!!

SPITZE ! SPITZE !! SPITZE !!!

Ihr müßt die Preise anpassen ! lol
Soviel Geld kann ich garnicht haben wenn alle Liquids bei Euch immer so wahnsinnig lecker sind!
Ich mische selber weil es billiger ist,aber wegen Euch gebe ich das selbst mischen wohl auf.Ich komme da nicht dran.
Für mich Liquids in Vollendung! Allerdings etwas mehr VG hätte ich noch lieber (So sehe ich den Geschmack auch in der Wohnung) haha.

Liebe Grüße

By:
Heinz Schulz
On:
24 Feb 2012
...das überzeugt mich !!!
Auch bei Eurem "Mild Menthol" kann ich wieder eine Spitzenbewertung abgeben.

Da kommt kein anderes Menthol-Liquid mit. Besser als jede gute "Menthol-Pyro".

Super !!! Danke !!!
By:
Stefan Eberle
On:
17 Feb 2012
Super Mentholgeschmack, pfeffrige Note im Abgang
Super Geschmack, super Dampf, nur die pfeffrige Note im Abgang könnte ein bisschen milder sein, ansonsten Top, wie alles bei Euch, macht weiter so!
By:
Ingo Liebau
On:
28 Jan 2012
Erstaunlich
Eben getestet und ob wohl ich nie so richtig auf Mentohl stand bin ich echt begeistert ! Habe das auf eGo-T MOD (hochomiger Edelstaldoch, keine Glasfaser) gedampft. Dezentes Menthol und ein WOW Flash bei 12mg ! Mochte Mentohl sonst nicht wirklich, aber das hat was !
By:
Heiko
On:
24 Jan 2012
Einfach nur Spitze!!!
Habe vorm Dampfen immer Pall Mall Menthol geraucht,habe nun mit diesem Liquid den perfekten Ersatz gefunden der auch noch viel besser Schmeckt.Eine super Komposition aus Minze und süßen Geschmack,kann man einfach immer Dampfen!!!
By:
Silvie
On:
21 Jan 2012
TOLL
Das ist mit Abstand das beste Menthol-Liquid, was ich bisher hatte. Sehr mild und lecker. Gehört zu meinen Favoriten. Werde ich auf jeden Fall wiederbestellen.
By:
Michael Ginster
On:
12 Jan 2012
Der Name passt
Man bekommt genau das was der Name sagt, mildes Menthol
Leicht künstlicher Unterton, Verdampferabhaengig.
Sehr guter Dampf, guter Hit. Kein Kratzen, gut abgerundet.
Mein bestes Menthol bisher.
Warum nur 7 Sterne? Probiert mal ICE COLD oder ORANGE dann wisst ihr es.
10 Sterne im Vergleich zu z.B. Steamo
By:
Marcus
On:
11 Dec 2011
OBERKLASSE!!!
Also ich hab hier noch irgendwo so nen Chinamentholliquid rumzuliegen. Kann man das als Türschlossenteiser nutzen? Denn nachdem ich hier das MildMenthol gekostet habe kommt mir nix anderes mehr in meine Dampfe. Fantastisch!!! Der Name ist Programm. Eine ganz sanfte Mentholnote die mich an Wrigleys und Pfefferminztee erinnert. Flasht auch relativ gut.

Eine rundum erstklassige Mischung!!!

Danke dafür!
echt legga
von mir auch 10 Sterne..
schneller Versand-
wußte immer genau wo die Ware ist und wann Sie kommt-
lecker im Geschmack-
die nächste Bestellung liegt hier schon.
Vielen Dank,
Uwe
By:
Wolfgang
On:
6 Dec 2011
Sehr gut!
Für alle, die zu Zeiten der Zigaretten, gerne Menthol geraucht haben, ist dieses Liquid ein Muss. Ich finde der Geschmack entspricht fast der "W*** ICE".
Für mich besteht bei dem Liquid akute Dauernuckelgefahr!
Klasse!
Ich habe habe ein Probe von dem Liquid zum Testen erhalten und muss sagen, obwohl ich nie in meinem leben Mentholzigaretten oder ähnlich geraucht habe, dass dieses Liquid verdammt gut schmeckt. Leichte Minze, die auch auch lange nachdem man die E-Ziggi aus der Hand gelegt hat, ihren Geschmack in meinem Mund verbreitet. Dazu ein Beigeschmack, der mich an einen guten Pfefferminztee erinnert. Danke für diese Probe. Deine Liquids stellen alles andere, in bezug auf Geschmack und vor allem geschmacksintensität in den Schatten, lieber Paul.
Spitzen Produkt!!
Spitzen Qualität und super Geschmack-so muß ein Liquid schmecken!! Da sollten sich Hersteller wie V*****tte eine Scheibe abschneiden. Meine Empfehlung!!! Weiter so!!!:-)
By:
Chris
On:
26 Oct 2011
Super Menthol-Liquid
Das erste Menthol-Liquid was mir anstandslos schmeckt und ich auch über einen längeren Zeitraum dampfen kann!
Write a review
Reviews will be published after being checked